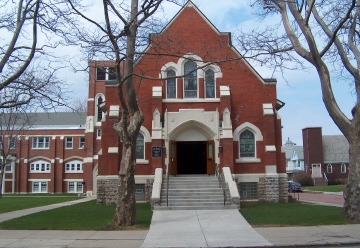 Welcome
Pentecost
We are now in the season of following Jesus as he teaches his disciples. Join us as we journey with our teacher, friend and savior.
COVID News
Following the direction of Gov. Cuomo we are happy to return to normal operation, face masks are optional. We encourage you to join us but if you are showing any symptoms that concern you please seek medical advice and stay home until you know your health status. We are responsible for oneanother. We will recover and be stronger, pray earnestly for those who are in jeapordy now, they need your encouragement and love. If you know someone with COVID walk alongside of them as the deal with this difficult disease.
Worship in person is available on Sunday Mornings at 10:30 .
We will be providing a live video at 10:30 am each Sunday morning and special worship services including Christmas Eve.on our Facebook page. You can visit us on Facebook at
Grace Lutheran Church South Buffalo
for real time prayers, singing (with masks) and the word of God. As possible, we will also be posting the worship video to YouTube (same name as FB). There is a link provided on the Join Us! tab above. Please send us a request for help setting up to our email contact on the Conact Us tab.
Please let us know if we can help you in this season of separation. Email us or call us, you are not alone.
For information on donations and weekly offerings please see the donate tab above. Thank you for your financial gifts.
For more information on how we are dealing with the Coronaviris please see the News Tab at the top of the page!
Welcome to the Grace Evangelical Lutheran Church website. We hope this site will help you learn more about us. We are a small, friendly, family oriented church. All who have been baptized are welcome to participate in recieving communion. We are a welcoming community of believers who strive to grow in Christ.
Grace Lutheran has a long tradition of community support and service. Some of the many groups available are:
Choir
Heartwarmers - members learn to knit and crochet
Stained Glass - members are restoring the stained glass windows of the church
Food Pantry - see our Ministries tab above
Clothing Pantry - supported solely on donations from the church and community, open to the public
Alzheimers Respite - once a month our members host a program for those battling Alzheimers to give their care givers a much needed rest
We hope you will join us for service on Sunday to experience for yourself the fellowship of Christ.
Sunday School for Pre-k through grade 6 Sundays at 9:00 to 10:15
Our theme is God's Work Our Hands
Adult Bible Study 9:30



Grace Evangelical Lutheran Church

174 Cazenovia St
Buffalo, NY 14210
Phone: 716-822-0553

email: gracechurchbuffalo@gmail.com
Come see a slideshow of our wonderful community, and get a glimpse of some of the many activities that take place at Grace Lutheran.
Meet Grace Evangelical Lutheran Church
Come to the About Us section to meet the staff and clergy, and find out what we're all
about!